Undo This Mess Gold Standard Laundry Liquid 2L
---
Our deepest clean for tough stains, pristine whites & bright results
The overachiever. Goes above and beyond to ensure a pristine clean every wash. 
Cleans cuffs and collars 
Brilliant colours and whites
Neutralises odours 
Yellow free underarms!
Smells hygienically clean with a beautiful Tea Tree scent.
Download SDS
Here
Water - Purified Solvent
Laureth-8 * Cleaning Agent
Sodium Laureth Sulfate * Cleaning Agent
Coco-Glucoside * Cleaning Agent
Potassium Oleate * Foam Control
Sodium Citrate * Builder
Sodium Carbonate Builder
Deoxyribonuclease Cleaning Enzyme
Subtilisin Cleaning Enzyme
Lipase Cleaning Enzyme
alpha-Amylase Cleaning Enzyme
Mannanase Cleaning Enzyme
Ethanol * Solvent
Fragrance * Perfume
Citric Acid * Buffering agent
Trisodium Dicarboxymethyl Alaninate * Chelating agent
Sodium Polyaspartate Chelating agent
Benzisothiazolinone Preservative
Methylchloroisothiazolinone, mixture with
Methylisothiazolinone Preservative
We're on a mission to clean up our home
We've only got one, so screw Mars and let's focus on fixing our problems here.
UNDO This Mess is all about making it easy for Australian's to engage in positive climate action without compromise.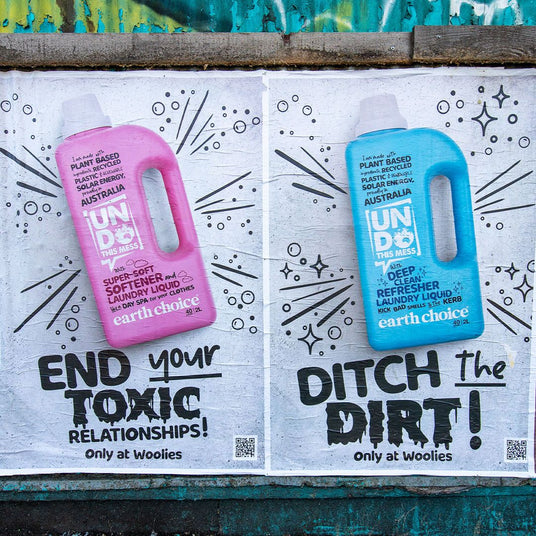 We make SUPER CLEAN cleaning products
What's SUPER CLEAN mean? Our philosophy is simple.
Use plants and renewable sources instead of fossil fuels where possible.
Make stuff locally, it's great for jobs & lower emissions 
Cut down on plastic and use recycled material.
Explore The Undo This Mess Range