Proudly Australian made and owned since 1981
From the early passions of a chemist assistant with a strong ethos for supporting the environment, to the young and determined drive of his son.
Terry and Justin Dowel have created one of Australia's largest and most successful environmental pioneer businesses today.
Key Milestones Through The Years
1960

Terry attended a talk on the importance of living a healthy lifestyle which motivated him to live by this ethos in his personal life and in business.

1965

Terry and Kaye created their first product, Tiki Bubble Bath at Terry's parents' house, successfully ranging in Myer stores.

1981

The Natures Organics brand was born and launched a range of fruit shampoo and conditioners, with great success in Franklins supermarkets.

1986

The OC Naturals brand was created to bring a new range of natural shampoos and conditioners to the market.

1988

Earth Choice was officially launched as an eco-friendly alternative to cleaning products and to compete against products in market claiming to be better for the environment that were proven to be anything but.

1991

The company officially became known as Natures Organics and Terry's 21 year old son, Justin, was brought on board to take the business out of receivership.

1992

Justin's drive and determination to improve the representation of Australian manufacturers in major supermarkets saw Natures Organics products ranged in Coles for the first time.

1995

Natures Organics became the first Australian manufacturer to produce bottles from 100% post consumer recycled plastic.

1998

Manufacturing moved from a small factory in Bayswater, Victoria to a larger factory space in Ferntree Gully to cope with demand.

2009

Natures Organics was the first manufacturer in the world to make a long life grocery product using corn plastic, resulting in a 92% decrease in carbon emissions.

2013

Earth Choice launched a new dish tablets range to become the first phosphates free dish tablets in Australia.

2019

Completed the installation of over 5,000 solar panels on our factory roof to save over 1,500 tonnes of carbon emissions every year.

2020

Launched the first refillable shampoo and conditioner product in supermarkets to encourage more consumers to reuse and reduce single use plastics.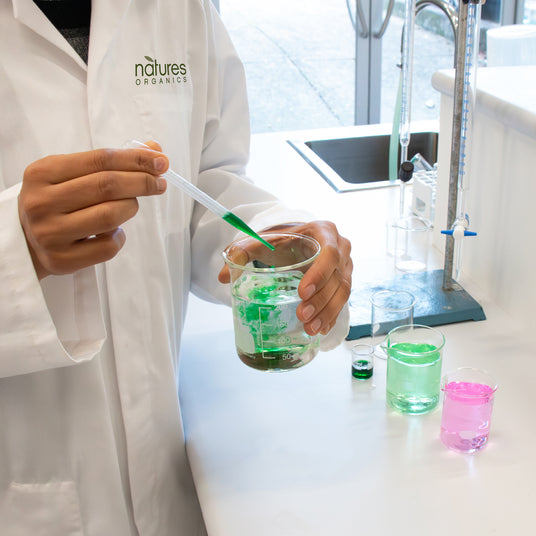 Pushing the boundaries for better environmental solutions
When Terry first started producing Earth Choice, he knew there was a way to avoid harmful chemicals whilst still creating a high performance product.
Terry's mission to test and find new, more sustainable ingredient formulations continues to be a fundamental principle in our product development process today.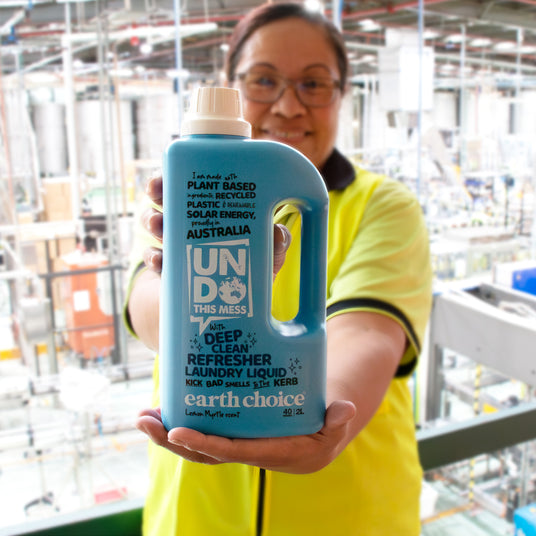 Supporting Australian manufacturing and providing local jobs
At Natures Organics, we employ over 170 locals across our factory and office teams. We believe in the importance of supporting Australian manufacturing, not only for our local economy but for the environmental impact too.
Our Unique Manufacturing Process
Unlike other local manufacturers, we don't import pre-made bottles and fill with products on site.
Our additional PET moulding facility allows us to create our own bottles on site, using post consumer plastics. The bottles are then filled with our plant-based formulations at the same location.
Not only does this ensure that over 1483 tonnes of recycled PET plastic and 127 tonnes of recycled HDPE plastic is reused, it also has a positive impact on the environment by reducing carbon emissions by not shipping empty bottles from overseas.
Our Charity Partners
After an eye opening trip to Nepal and Cambodia, Terry and Justin knew they would dedicate their lives to supporting less fortunate communities around the world.
Our goal is to help feed and educate children that are in the poorest regions that simply wouldn't have any opportunities. We support Non Government Organisations that are driven and connected to the communities they directly work in, so they have the greatest impact.
The School of St Jude

In February 2002, Gemma Sisia (nee Rice) from Northern NSW in Australia, founded The School of St Jude in Arusha, Tanzania, East Africa.

Natures Organics' donations over the past several years have contributed towards extensive building works, critical food and educational resources at the School of St Jude, which has allowed more students to receive a free, high-quality education and help them to escape the cycle of poverty.

Reaching The Unreached

RTU is a secular organisation operating in the Tamil Nadu area of Southern India. It was founded in 1975 by Brother James Kimpton to help tackle the extreme poverty he saw in the villages.

Natures Organics has chosen to become directly involved with the RTU Housing Project. This project was set up to provide a better living environment for the rural poor who typically live in shacks made of mud and thatched palms. The shelters provide little respite from the harsh weather conditions in Southern India and have to be replaced every year.

Cambodian Children's Fund

Scott Neeson left his entire life behind him and moved to Cambodia to establish his first orphanage after he discovered that children were living on the Steung Menchey Garbage dump in some of the worst living conditions you will find on the planet.

Kaye Dowel (Director – Natures Organics) has become the campaign manager for CCF Australia in Victoria and we make regular trips to support Scott and help with the future direction of CCF.

Hamlin Fistula Ethiopia

Natures Organics alignment with the HFEA stems from our ongoing belief in supporting self sacrifice for others. Our monthly donations are provided to ensure they can remain sustainable in their work providing a compassionate holistic service to women with childbirth injuries, specifically obstetric fistula as well as to be the world leader in training and research for the treatment, care and prevention of obstetric fistula and to participate actively in prevention activities leading to future eradication of obstetric fistula.

Free To Shine

An independently-funded, nonprofit organisation founded in Australia, working to prevent sex trafficking in South East Asia. Our work is child protection focused, human rights based, and designed to strengthen families & keep children in education.

Working with local authorities and communities to reach the most at-risk rural girls, reducing their vulnerability to trafficking by improving their access to education & providing them with social work support.

Jane Goodall Institute Australia

The Jane Goodall Institute Australia (JGIA) is an Australian not-for-profit and registered environmental organisation. Their Philosophy is centered around Animals, People and the Environment (APE) and their Purpose is to "inspire actions that connect people with animals and our shared environment". They work to promote the conservation of chimpanzees and other great apes and their habitats and surrounding human communities.
Frequently Asked Questions
How many employees do you have?

We currently employ over 140 local team members across our manufacturing, office and field teams.
How much of your products are made on site?

The vast majority of our products are made on site, including the production of our own recycled bottles from post consumer plastic. The only times that we have products outsourced is when there is not the manufacturing capabilities within Australia. We are always striving to produce as much of our products onsite.
Is the business still family owned?

Yes, our business has been family owned for over 40 years and continued to be run by the Dowel family.
How can I support your charity initiatives?

You can find out more about our charity partners and how to support them here.