Earth Choice All in One Dishwashing Tablets 42 Pack
---
Earth Choice Dishwashing Tablets powerfully cut through grease and deliver a sparkling clean shine every wash

Our Earth Choice Dish Tablets will leave your dishes sparkling clean. As always, we use a plant and mineral based formula which is biodegradable and safe for our waterways. Above all, we don't use any harsh chemicals! Similarly, Earth Choice Dish Tablets are packaged in a fully recycled carton box, helping to cut down on plastic. And each individual tablet comes wrapped in a fully biodegradable, dissolvable wrapper – making them convenient and easy to use!
8 Step Cleaning Action:
Grease cutting
Deep soaking action
Rinse aid
Odour neutralising
Tough stain removal
Tea stain removal
Removes encrusted food
and includes environmentally responsible dissolvable wrapper.
Washing Tip: Decorated glassware, hand painted china and silver are best washed by hand. And it's best to avoid handling the tablet with wet hands.
Download SDS
Here
Sodium Citrate* Chelating Agent
Sodium Percarbonate Oxidizing Agent (Bleach)
Sodium Chloride Processing Aid
Sodium Carbonate pH Adjuster
PEG-10 Binder
Granulation Excipient Granulation Excipient
Ceteareth-10 Surfactant - Emulsifying Agent
Polyacrylic Acid Scale Inhibitor
Sodium Silicate Corrosion Inhibitor
TAED Bleach Activator
Cellulose* Absorbent
Tetrasodium Etidronate Chelating Agent
Subtilisin Lytic Agent (Protease Enzyme)
Lignin* Dispersant
Water Solvent
Glycerin Humectant
Trideceth-4 Surfactant - Emulsifying Agent
Cellulose Gum* Binder
Acrylic Acid – Maleic Acid Copolymer Scale Inhibitor
Fragrance Perfuming
CI 19140 Colorant
CI 42090:2 Colorant
alpha-Amylase Lytic Agent (Amylase Enzyme)
bis(N,N',N''-Trimethyl-1,4,7- Triazacyclononane)- Bleach Activator
Trioxodimanganese (IV) Di(Hexafluorophosphate)
Monohydrat
Plant derived and mineral ingredients *
Coles, Woolworths and Independent Supermarkets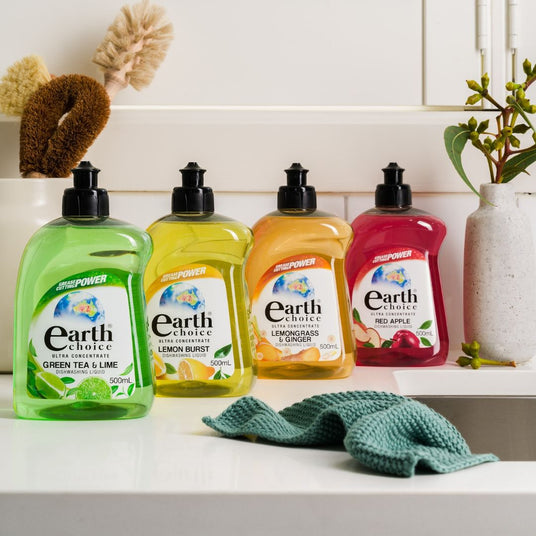 Pioneers of environmental cleaning products since 1981
Since 1981, Earth Choice has been passionately making effective and affordable household cleaning products that are environmentally responsible. Proudly Australian made & family owned, Earth Choice is manufactured at a solar power operated factory in Ferntree Gully.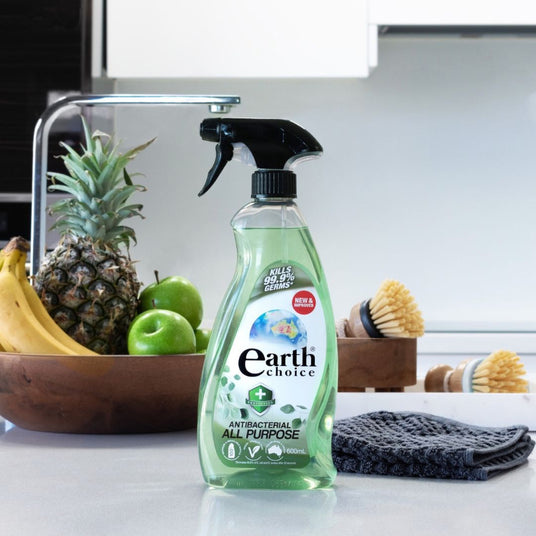 The better choice for our planet
Earth Choice's range of products are scientifically developed by leading green chemists and use plant-based cleaning actives that deliver a powerful clean whilst being safe for our environment. The biodegradable formulations are grey water and septic safe, cruelty free & vegan and are packaged in recycled plastic packaging that are 100% recyclable. 
Explore The Earth Choice Range