Undo This Mess Super Soft Softener and Laundry Liquid 2L
---
It's like laundry detergent but softer. 
Kittens, puppies, butter, Super Soft Softener. Oh, sorry, I thought you asked what's the softest thing in the world. 
2-in-1 is twice the fun, which is why this laundry liquid will both CLEAN and SOFTEN your clothes. So ditch the fabric softener and go Super Soft. 
Smells like a peaceful garden with a Honey Blossom & Black Orchid scent. 
Biodegradable ingredients
Vegan
Cruelty Free
Recycled plastic bottle 
Grey water safe
Septic Safe 
40 washes per pack 
Suitable for front and top loaders.
Download SDS
Here
Water - Purified Solvent
C12-14 Pareth-8* Cleaning agent
Coco-Glucoside* Cleaning agent
Sodium Laureth Sulfate* Cleaning agent
Potassium Oleate* Foam control
Sodium Citrate* Builder
Ethanol* Solvent
Sodium Carbonate Builder
Fragrance* Perfume
Polymer of diallyl-dimethyl-ammonium
chloride and acrylic acid
Softening polymer
Trisodium Dicarboxymethyl Alaninate Chelating agent
Sodium Polyaspartate Chelating agent
Subtilisin (and) alpha Amylase (and)
Mannanase
Cleaning Enzyme
Benzisothiazolinone Preservative
Methylisothiazolinone Preservative
Citric Acid Buffering agent
*Plant derived ingredients
We're on a mission to clean up our home
We've only got one, so screw Mars and let's focus on fixing our problems here.
UNDO This Mess is all about making it easy for Australian's to engage in positive climate action without compromise.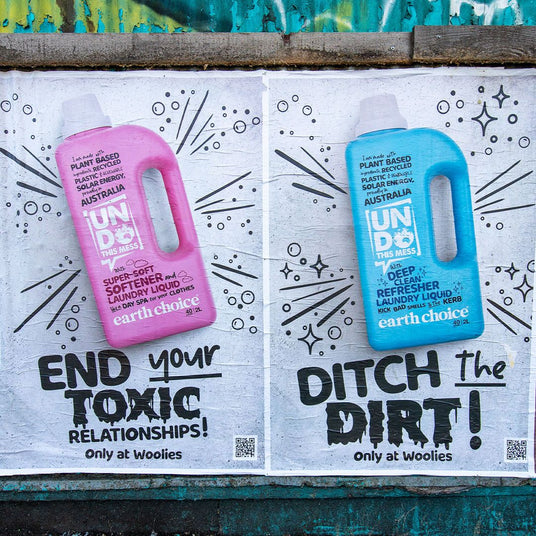 We make SUPER CLEAN cleaning products
What's SUPER CLEAN mean? Our philosophy is simple.
Use plants and renewable sources instead of fossil fuels where possible.
Make stuff locally, it's great for jobs & lower emissions 
Cut down on plastic and use recycled material.
Explore The Undo This Mess Range